Powder coating has various applications, ranging from outdoor furniture and small automotive parts to industrial equipment and architectural elements. Powder coating plays an important role in the architectural coating.
Architectural powder coatings are high-quality, durable, and high-performance, designed specifically for architectural applications. This powder coating is perfect for coating aluminum and steel products and can coat both sides of these products. Common products that are coated for architectural use are fences, windows, walls, railings, etc.
At Rusty Lions, we offer powder coating for architectural applications with exceptional durability, chemical resistance, and mechanical performance. No need to rely on anodization or liquid paint finish; our range of powder coating comes with Environmentally friendly declarations that make your architectural products more sustainable and long-lasting.
Benefits of Architectural Coating
Powder coating for architectural use has widespread benefits. Besides superior protection, our powder coating adds luster and makes the applied parts more attractive.
Here are some benefits of our architectural powder coating:
Protection

The Rusty Lions powder coating range for architecture comprises high-performance and world-class architectural-grade powder coating designed to meet our client's expectations. Our exterior grade powder comes with a range of colors to choose from and provides outstanding weatherability with color and texture retention and moisture resistance. You can also expect chemical and mechanical resistance with our architectural powder coating.

Powder coating offers long-lasting durability and makes the surface resistant to chipping, fading, or scratches.

Attractiveness

Protection and durability are just one facet of powder coating. They also make the substrate look exceptionally good in design. Rusty Lions has architectural coating in various colors, textures, and gloss levels. You can transform the look of your products and increase their aesthetic value with the hundreds of colors and effects that Rusty Lions offers.

Trustworthiness

Rusty Lions is a certified powder coating expert who has overcome hundreds of industrial, commercial, and architectural projects. Our high-performance powder coating can be applied to architectural-grade metals as well. Our powder coating services are trustworthy, as each of our coatings passes through a stringent quality check to exceed your expectations. You get high performance along with a limited warranty period.

Our certified applicators are also highly experienced and comply with AAMA standards. To provide you with the desired color and gloss quality, we ensure that our applicators know their dough and manage the pretreatment and application process as per high standards. Each and every step of the process is quality-checked by us, including pretreatment, oven audit, and the powder coating itself. There are many applicators in New Jersey and throughout the US. If you're in need of a registered applicator, look no further than Rusty Lions.

Cost-effective

Unlike solvent-based coatings, you only purchase the powder coating needed to complete your architectural project. The powder is cheaper than solvent-based paint and also eliminates additional steps or drying time.

Rusty Lions believes in the power of sustainability, which is why we recycle the powder coating for future applications if it's not contaminated. Thus, powder coating is a cheaper and more reliable alternative for architectural applications.

Environmentally Safe

Rusty Lions powder is your environmentally responsible choice and a better alternative to wet paint. By choosing our powder coating, you choose the superior performance, a wide array of colors and effects, and extended warranty along with no impact on the environment. Embrace our powder coating and know why they're a more environmentally responsible choice.

In the absence of chemical solvents, carbon dioxide emissions, and the need for primer, powder coating is the best all-around choice for your architectural finishing needs.

Low Maintenance

One of the major benefits offered by powder coating is that they require really low maintenance. There's no need for any special kind of cleaners or solvents; you can simply rely on soap and water to clean any powder-coated product.

Minimum Wastage

Apart from being environmentally friendly, powder coating also ensures minimal wastage as the powder adheres to the surface with an electromagnetic charge. Moreover, it's sprayed by a nozzle, using only the needed powder coating.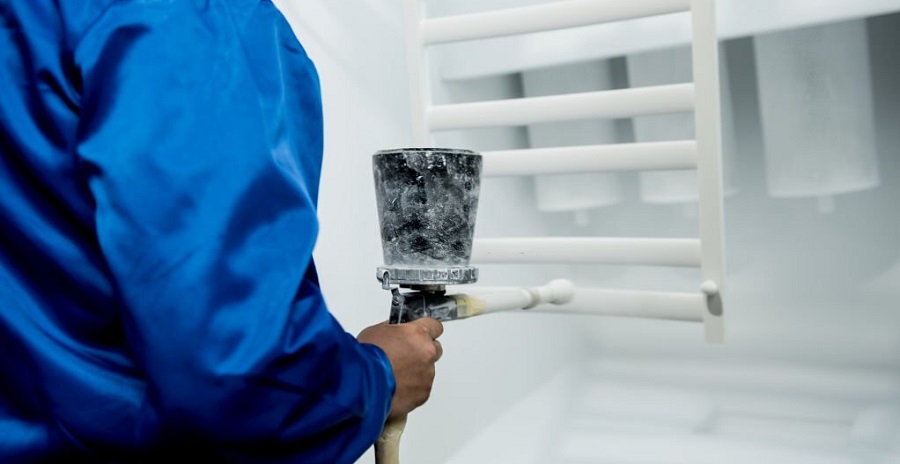 Powder Coating Applications in Architecture
Now that you're aware of the benefits of powder coating in architectural applications, it's time to find out which metals can be powder coated.
What should be remembered here is that powder coating is suitable for a wide range of products. In architecture, you can basically use powder coating on the interior and exterior of buildings.
So let's take a look at the metals used in architecture that are suitable for powder coating. Remember that all these metals need to go through pretreatment.
Aluminum

Aluminum is a lightweight metal commonly used in architecture and building designs. The problem with aluminum is that it is coated with oxide to make it resistant to rust. This coating has to be removed prior to powder coating to allow proper bonding of the powder to the surface. Rusty Lions can achieve this by blasting the surface to remove oxide and dirt before a powder coating job.

Stainless Steel

Stainless steel can be easily profiled so that the powder can stick to the surface effectively. Profiling can also be carried out by blasting.

Galvanized Steel

Galvanized steel is also used in architectural projects and is one of the most common metals that undergoes powder coating. Galvanized steel also contains an oxide layer like aluminum which must be removed before spraying commences.
Conclusion
Powder coating is widely used across many industries, including architecture. Rusty Lions is the leading name in powder coating in New Jersey, offering a gamut of services including cerakote, paint, sandblasting, restorations and custom works.
Contact us for commercial, industrial, automotive, and architectural powder coating projects.