Top Trends in Powder Coating
Introduced in the 1960s in North America and due to its wide array of functionalities, powder coating gained popularity almost instantly. More and more companies prefer to have their products powder coated because of its protective features, premium finish, and lasting effects.
Due to its popularity, powder coating has a huge range of color and texture options. Still can't find your desired color or texture? You can get it customized according to your will.
With Powder Coating, you will never be out of options.
Benefits of Powder Coating
Powder coating comes packed with benefits, which has led many companies to rely on it. High Durability and lasting effect are the primary benefits that you get with powder coating nj.
The benefits that Powder Coating provides are:
Durability

When we talk about the finished look, powder coating is the option among all its alternatives. Powder-coated objects provide a durable finish that is resistant to wear and tear, no matter where they are used. The coating is also resistant to chipping, fading, and tearing, all because of the high-quality finish.

The high durability of Powder Coating makes the coat last longer. Therefore, as compared to its alternative, wet paint, powder coating looks like the optimum choice.

Efficiency

There is little to no wastage in the process of powder coating. With the help of electromagnetic waves, powder coating is applied to the surface of objects, because of which there is almost no wastage during the whole process.

Moreover, an expert can apply as little (or as much) powder as per the requirement. Hence, you pay for what you want and don't have to store any leftovers. It's also much quicker and suitable for metal parts, as you don't have to wait in between for parts to dry out and apply another coat. The process of powder coating is completed in one flow.

Quality

An object that is powder coated brings forward a superior-quality finish that can't be matched by any kind of paint. With its quality of drying up almost instantly, there are no drips or uneven surfaces in the final finish. Therefore, you don't need to sand or reapply another coat of paint if mistakes are made.

Environmental Friendly

The powder adheres to the surface on which it is applied through the medium of electric charge. Hence, no toxic or harsh chemicals are used in the powder coating process, giving it adhesive quality, and the powder dispersed in the air during the process of coating is easy to clean.

Unlike traditional wet paints, which use Volatile Organic Compounds (VOCs), which are toxic and dangerous to the environment. It exposes the user and environment to high-level pollutants.

No such elements are used in powder coating, making it safe for the user and the environment. Though the individuals responsible for carrying out the process of powder coating are well-equipped in safety gear to minimize the body's exposure to the powder.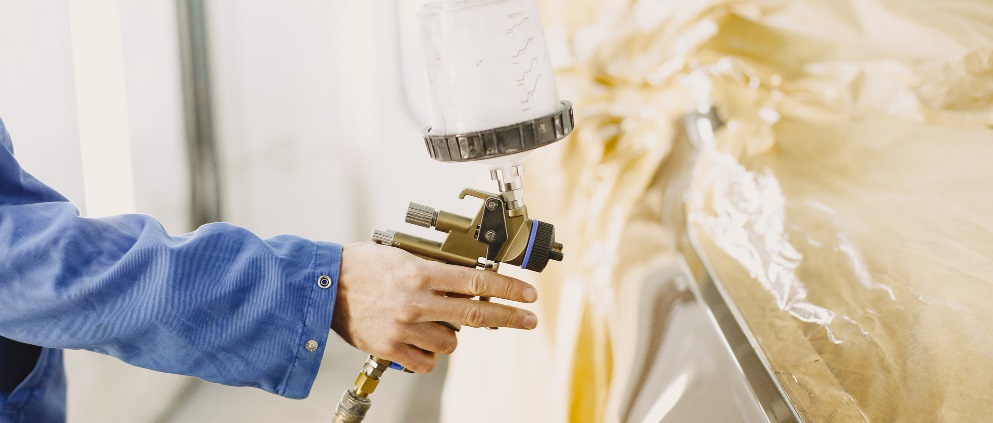 Trends of Powder Coating
With the advancing technology, powder coating also undergoes continuous improvements, which makes it even better every year. Some of the top trends you can look out for in Powder Coating in 2022 are:-
UV adhesive Powder Coating

One of the primary elements of the powder coating process is Heat, which works well with metal objects but poses an issue with molded plastics and other composites. Plastic has a wide variety of applications and is used to manufacture the majority of home appliances and is heavily used in cars. But they suffer a great deal from high heat.

A new adhesive process that utilizes UV light to catalyze the adhesion process has eliminated the requirement for high temperatures during the powder coating process.

A UV-based powder coating process has allowed many automotive parts and other applications to utilize powder coating as their alternative to wet paint.

Increased Use in Skyscrapers

Skyscrapers, as the name says, have a sky-high nature that makes them exposed to harmful UV rays from the sun. This makes UV protection especially important in skyscrapers.

A special ingredient is used in the powder-coated parts of skyscrapers that helps them withstand exposure to harmful UV rays. Increasing its protective nature and, most importantly, ensuring structural integrity.

High Compatibility with Electric Vehicles

Parts such as transmission, wheels, driveshaft, differentials, and other parts, also known as the drivetrain of Electric Vehicles, are leaning towards getting these powder coatings.

It is well-known that powder coating adds to the protective structure of objects and increases longevity. Its application on EVs will subsequently increase its demand in the coming years. We all know how quickly EVs are capturing the market, which means higher demand for such vehicles in the future, henceforth, higher demand for powder coating materials.
Powder Coating has a wide array of applications, and its protective feature and premium finish make them the optimum choice. The upfront cost of powder coating is higher than that of wet painting, but their low maintenance and high durability make them a cheaper choice in the long run.
The demand for powder coating is rising in the market and will soon take it over completely. If you are looking to get a premium and durable finish, don't think twice; get the object powder coated.
Don't know where to go for powder coating services?
You can visit RustyLions at our workshop and let us know what you want to get powder coated. We would be more than happy to help you out.